Expert Advisor Recommendation
Forex Trade-Manager MT4 Description
Forex Trade Manager helps you to trade better. Do you think that in markets where the price can change in a split second, placing orders should be as simple as possible? when you want to place an order, you probably wonder how big a trade you should open? What percentage of your deposit should you risk on this single trade? Before you set the trade size, you do the necessary calculations to get an answer to the question of what the trade size should be.
Imagine that you have a tool that does all this automatically. You open a chart, make a market analysis and mark with horizontal lines the entry point, stop loss and take profit, and at the end you define the level of risk, e.g. as a % of available capital, that you are able to bear in this transaction.
Now all that remains is to click the appropriate button on the panel to open the trade.
If you are a scalper and need to quickly open and close trades without setting defenses or targets, then you have everything at your fingertips in the Trade Manager panel, where you can define fixed order parameters and quickly open them by clicking the 'Buy' or 'Sell' button.
Closing or deleting orders is also done directly from the Trade Manager panel, where you can close everything with one button, or close an order partially.
By using the Trade Manager in your day-to-day trading you are always aware of the risks you are taking, and you keep your trades and your account under control at all times.
The Trade Manager's intuitive and straightforward interface means that it will only take a moment to get to grips with the program.
A super-simple way to place your trading orders with one click!
Adjust your % Risk per trade, Stop Loss, and Take Profit, and you are all set to place your BUY and SELL orders with one click!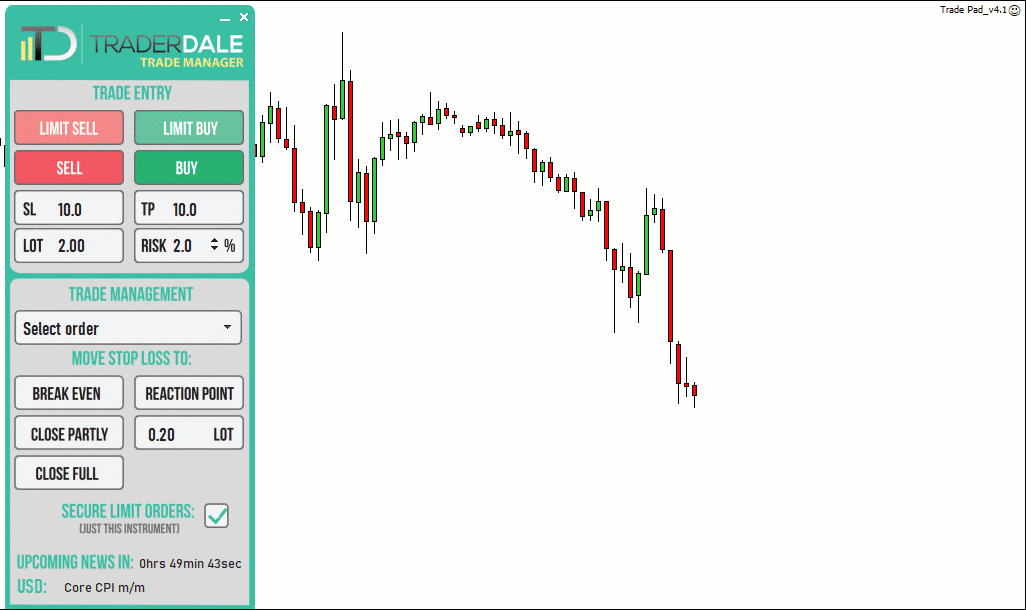 ADJUST TAKE PROFIT & STOP
It only takes one click to adjust Take Profit or Stop Loss of your trade.
The software always shows how much money you get if the trade hits a Profit and how much you lose if it hits the Stop Loss.
It also shows the Risk-Reward Ratio of the trade. This re-calculates automatically as you move your TP and SL.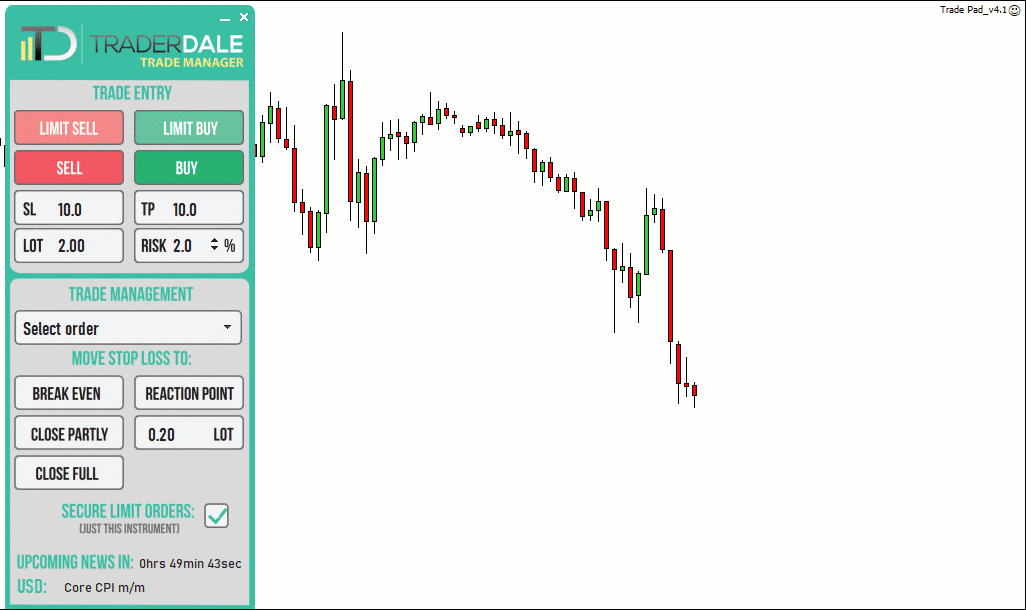 PLACE LIMIT ORDER & ALERT
Trade Manager makes placing Limit Orders super-simple and foolproof.
First, you adjust the Trade Entry, Take Profit, and Stop Loss.
After that, you place the Limit with one click.
There is also an icon that places an Alert. Just one click and you are all set. You can move this alert easily with your mouse.
This feature does Risk Management for you!
First, set your Risk per trade. Then no matter how you adjust your Limit Order, the Risked $ amount will remain the same.
The software automatically recalculates the trade size so you always risk the same $ amount.
This is a super-simple way how to risk the same amount of money for each trade regardless the Stop Loss pip value.